How Does Your Garden Grow? 5.1 Surround Sound Mix
How Does Your Garden Grow? 5.1 Surround Sound Mix
By Better THan Ezra
$15.98
Sorry, this product is currently unavailable.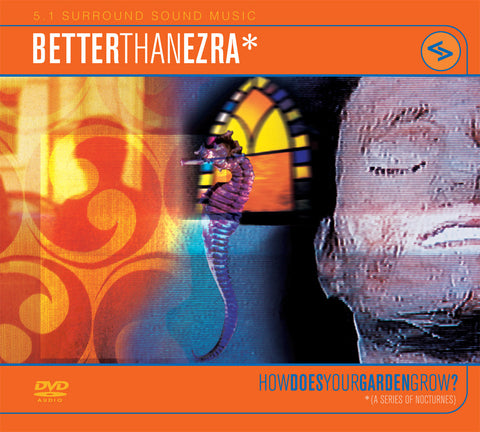 Reviews for
How Does Your Garden Grow? 5.1 Surround Sound Mix
Snood
from
United States
on
Jan 23, 2014
Fantastic 5.1 Mix of a fine album from a great musical group. While this title is not my favorite BTE title (Friction Baby is) I can see why this album was chosen. This album lends itself to the 5.1 experience. If you love 5.1 surround, you will love this DVD-A. Even if you are not currently a fan of Better Than Ezra (you will be), pick this up and you will not be disappointed. Do it now o/ Thank You Music Valet
Response from Music Valet
Jan 23, 2014
J. Bisti
from
New Paltz, NY
on
Oct 20, 2013
Happy to see that a lot of people are finding this album because of the 5.1 mix and digging the music. I'm coming at it from the other direction, this has long been one of my favorite albums, and was amazed to see that a 5.1 remix of it was being made available. I knew the stereo version inside and out, and have always appreciated every detail that went into making it so special, so the chance to re-hear it for the first time was something I couldn't pass up.

The experience is hard to explain. You hear more of the original recording, but it doesn't sound too busy or overdone, just fuller and more dimensional. All of my favorite string swells, electronic blips and percussion fills are there, but they feel more present throughout, rather than just making an appearance. I actually didn't have a full 5.1 system, and had to do some buying and borrowing to get everything set for listening night, but it did not disappoint. Really an amazing experience.

Suffice to say, if Music Valet can handle an album this complex and rich, and keep an Ezralite happy, they're worth keeping in the loop for future releases. I kind of hope it's an album that I already love, but at the same time, I can see how it'd be fun to hear something brand new in this format as well. Either way, keep 'em coming.
Response from Music Valet
Oct 20, 2013
Christopher
from
Baton Rouge
on
Aug 24, 2013
I have been a BTE fan since the beginning days when they played at my frat house and also catching them at Murphy's. As a college kid, we were into beer and girls, but we all said this band is something different. And, they were. You could say that I am "exralite" since I have artifakt, robots, deluxe, and HDYGG. But, there is something about Garden that is different. Now, its the 5.1 disc. It is different and the best way music should be. I have followed BTE since their humble beginnings. When they play at the varsity in BR, it is awesome. Now, that awesome-ness is on a disc. Listening to Garden in 5.1 is a masterpiece. A little background. I worked the merch table a couple of few years ago for Josh Kelley who opened for BTE at the House of Blues in NOLA over mardi gras. I hung with the band in the Parish Room and chatted with Kevin about North La. We laughed about the humble beginnings and about being from North La. For those of you who don't know-it is a bit different from South La. When I read about Garden being in 5.1 I got a copy and thoroughly enjoyed the way music is meant to be heard. I got a puppy for my kids and she too enjoyed Garden by eating the case and the disc. We differ on our level of enjoyment. I love it for the music. She loved it for the taste, I guess. Needless to say, this disc is a masterpiece. If you are not a BTE fan, pick this disc up. If you are a music fan, pick this disc up. If you are a BTE fan, this is a necessary. I have almost every cassette (yes, they made these), disc, and download of BTE. From Arifakt, Deluxe, Robots, the LSU ep, et al. But, this is something different. It surrounds you in the sound. This disc brings Garden to life with each and every note. My favorites are Under You, One More Murder, and the classic Live Again. Don't miss out on this musical masterpiece.
Tim McDonnell
from
College Grove, TN
on
Aug 02, 2013
As a long time quad and 5.1 surround music enthusiast, I'm always looking for new tunes in these formats. Seemingly out of nowhere, this Better Than Ezra album is announced for DVD-Audio. Having been curious about the band for some time, I ordered a copy. I was not prepared for what a great record this is and how much the surround mixing supports the music so well. Both thumbs up and recommended!
Response from Music Valet
Aug 02, 2013
Joshua Bragg
from
Norway
on
Jul 21, 2013
Loved this album when it came out and have now re-experienced that same joy plus some!
Jeff Weinbender
from
Carpinteria, CA
on
Jul 18, 2013
I had not heard this one before ordering it. It is another artist I had heard of, but never actually heard. I am so glad I picked this up. The album is a great mix of styles, sounds, moods, pop-sense and alternative art. I have hundreds of 5.1 titles between the different formats. This mix is reference material quality. When choosing what to play for a musician who had never heard a discrete surround mix, this was one of the six I chose to load in my TL. He was blown away. I STRONGLY recommend this disc and can't wait for the next Music Valet release.
Response from Music Valet
Jul 18, 2013
Bob Romano
from
Naperville IL
on
Jul 16, 2013
I had this disc from the time it came out but I had forgotten about it. When I heard it was coming out in 5.1, and being a huge fan of surround music, I thought it was a no-brainer. Also, to be able to help out the format was a plus too! I ordered right away and received it promptly.

The best part is the disc itself! The 5.1 mix on this disc is discrete and imeersive. And truly brings a somewhat cramped sounding stereo mix to life. I can hear the care that was taken to expand the tracks and completely surround me with sound. This disc really shines in my Acura RDX ELS sound system.

I can't wait for future releases from Richard and Music Valet!! Thanks for keeping the surround alive.

Bob
Response from Music Valet
Jul 16, 2013
Ryan Talbot
from
Murfreesboro, TN
on
Jul 15, 2013
Once I finally had a chance to pop in this disc, after listening to the first 2 tracks, I thought for sure I'd give it 4 stars, but then from track 3 onward, I began to love the album more and more, and that's how I arrived at my 5 star rating.
Very discrete & fun mix. Songwriting and musicianship are also excellent. Great title to kick off Music Valet's new service.

Response from Music Valet
Jul 15, 2013
Steven M. Gunn
from
Orlando FL
on
Jun 07, 2013
Having loved this album when the original stereo version was released, I was absolutely thrilled to have the opportunity to hear it in 5.1... And it doesn't disappoint!

Up until now the 5.1 mix of Seal's 1994 self-titled album was my benchmark, against which all other surround albums were judged, but this mix of How Does Your Garden Grow? sets the bar at a new level as far as I'm concerned. Without ever feeling gimmicky, this mix really lets the surround format shine. It truly feels as if you're sitting in a room with the band playing around you.

In other notable 5.1 albums, there is a subtle transition into the surround world, but on many levels it still feels like a stereo recording, just with added depth. HDYGG, on the other hand, feels like it was recorded for this format.

Knowing this album as well as I do, I can attest to the fact that the stereo versions feel like they were fighting to cram everything in... But now every single instrument and voice has its own space, not to mention the fact that you can finally hear all the wonderful bleeps, clicks and other nuances these guys put into making this record back in '97.

The love and care obviously put into this new mix makes me excited to hear what's next from Music Valet!
Bryan Touchstone
from
Colorado
on
May 10, 2013
Disclosure: Knew nothing about the band or their work before buying. I am a fan of multi-channel, and purchased this because multi-channel releases are few and far between in the rock/pop/alternative world. The verdict? This is excellent. The songs and performances are first rate. The multi-channel mix is very well done. There are a lot of 3 dimensional touches to the treatment of instrumentation and synthesizers that adds substantially to the immersive quality of this disc. I have listened to this about 3 times since it arrived two days ago and I will listen to it many more.
Note: This is not a CD.  This is a DVD that will play both in cars and DVD players globally (no region code) that recognize the following formats.  Also note, 2014 Acura MDX and RLX vehicles have the ELS Studio audio system, that no longer features 5.1 Surround Capabilities.  Please refer to your car's owners manual or look for one or both of the logos below to make sure you have 5.1 Surround Sound Capabilities in your car.
About the remix:
The 5.1 surround sound remix idea started very innocently in a backstage meeting at the end of 2011. I threw out the idea and the band obliged. Flash forward to the fall of 2012, where I hosted the band to a marathon 16 hour mixing session where months of work culminated into the final tweaks to the 5.1 surround remix. I witnessed first hand the passion Ezra has for their music and the love they have for this record. It was a labor of love for me to bring this great record to Ezra fans old and new in the way I as a fan envisioned hearing it...in full surround. Assembling an amazing team of mixing and mastering engineers to take on this task let me take the job of curator of a true work of art...and for that I'm privileged.
The best way to describe the experience I felt after we finalized the mix is this visual. When I listen, I feel like I'm sitting in the middle of the band's New Orleans studio while they're playing these songs live. It's a very personal way to hear the record. What you'll hear is the live band performances, the string sections, Kevin's passionate vocal performances, the noise boxes, synths, etc…they're all here. This version will take those who know and love this record to another place and they'll hear things like they never heard before. For those that are hearing these songs for the first time, I welcome you to the family.
Watch the documentary video about the making of the surround sound remix.
Richard LaBonté, Music Valet